L-002 : L-Shape Hose End 5/8"
Product Description
L-Shape Hose End for medium and large body(parts number EZ-201 - EZ-211, EZ-2 - EZ-8) valves.
Just screw in the Hose End to the EZ Oil Drain Valve and tighten with a small wrench. The Hose Ends are interchangeable, making it a breeze to remove after changing your oil.
- EASILY SCREWS INTO THE VALVE BODY
- PERFECT TO PREVENT HOSE KINKING
- ADJUSTABLE HOSE END- ROTATES 360°
- SECURE POSITION WITH THE BUILT-IN LOCK NUT
- FOR LIMITED CLEARANCE APPLICATIONS
Thread: M18-1.0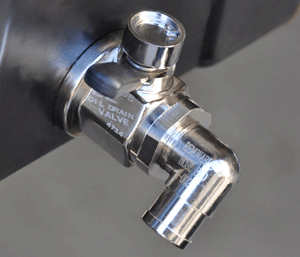 ---
Find Similar Products by Category
---
Product Reviews
Rotates Separately from the Nut!

Posted by mhsurfr on Sep/02/2014

I haven't used this yet, I just installed the EZ-5 after draining my oil in my 2013 Holiday Rambler Ambassador.

The adapter appears well-made, but has sharp edges on machined edges. Use care, or lightly sand edges.

The straight version is probably one piece (H-002).

There are 2 o-ring seals on this 90-degree version. Instructions are not clear, but this is simple:
1. Screw the outside threads into your large-bodied EZ Oil valve, until the threads are mostly in and orientation of the outlet is where you want it. I also bought the 'plug cap', to keep the internal valve threads clean.
2. Screw the locking nut clockwise until hand-tight.

---
---